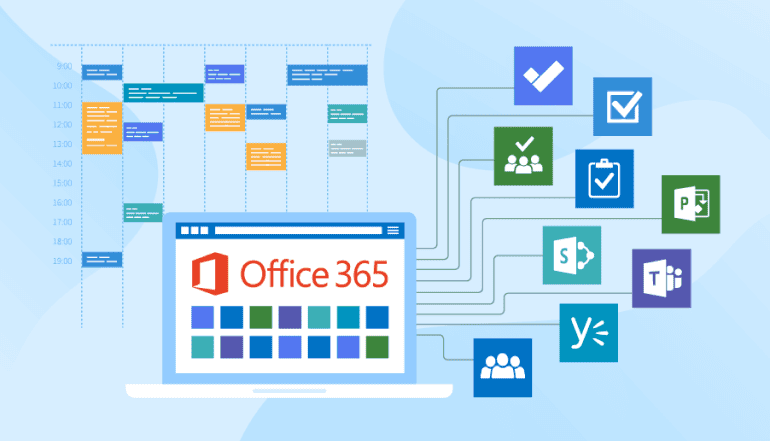 Microsoft Office 365 is a powerful suite of productivity tools that can significantly enhance your workflow and streamline your daily tasks. As businesses increasingly rely on Office 365 for their productivity needs, it's crucial to uncover the top tips and tricks that can help you make the most out of this platform. In this blog post, we will explore the ten most valuable tips and tricks to boost your productivity with Microsoft Office 365. Whether you are a small business owner, a remote worker, or part of a large organization, these tips will help you maximize your efficiency and leverage the full potential of Office 365.
Master the Art of Collaboration:
Office 365 offers robust collaboration features, enabling seamless teamwork and communication. Explore tools like SharePoint, Teams, and OneDrive to collaborate in real-time, co-author documents, and share files securely. Leverage these features to foster effective collaboration and enhance productivity across your team.
Utilize Outlook Productivity Features:
Make the most of Outlook's productivity features to manage your emails, appointments, and tasks efficiently. Learn how to create rules, use email templates, automate repetitive tasks, and leverage Outlook's intelligent features such as Focused Inbox and @mentions.
Streamline Document Management with OneDrive:
OneDrive is your personal cloud storage in Office 365, allowing you to store, sync, and share files securely. Learn how to organize your files, collaborate on documents, and access them from any device, even offline. Take advantage of version control, file sharing settings, and document co-authoring to streamline your document management process.
Automate Tasks with Microsoft Flow:
Microsoft Flow is a powerful workflow automation tool that integrates with various apps and services. Discover how to create automated workflows to eliminate manual tasks, such as sending notifications, collecting data, and syncing information between different platforms. Harness the power of Microsoft Flow to save time and increase productivity.
Boost Team Collaboration with Microsoft Teams:
Microsoft Teams is a hub for teamwork, offering chat, video conferencing, file sharing, and project management capabilities. Learn how to create channels, host virtual meetings, and collaborate on documents within Teams. Leverage its integration with other Office 365 apps to centralize your team's communication and collaboration.
Optimize Data Analysis with Excel:
Excel is a powerful tool for data analysis and reporting. Uncover advanced features like PivotTables, Power Query, and Data Models to analyze data efficiently. Discover how to create dynamic reports, perform complex calculations, and visualize data using charts and graphs.
Secure Your Data with Advanced Security Features:
Office 365 provides robust security features to protect your data and ensure compliance. Familiarize yourself with features like Data Loss Prevention (DLP), Advanced Threat Protection (ATP), and Information Rights Management (IRM). Implement security best practices to safeguard your sensitive information.
Improve Productivity with Microsoft To-Do:
Microsoft To-Do is a simple yet effective task management app that integrates seamlessly with Office 365. Learn how to create tasks, set reminders, organize your lists, and prioritize your work. Use To-Do to stay organized, manage your deadlines, and boost your productivity.
Customize Your Workspace with Office 365 Add-Ins:
Office 365 offers a wide range of add-ins that extend the functionality of your favorite apps. Discover productivity-enhancing add-ins for Word, Excel, PowerPoint, and Outlook. Explore add-ins for specific tasks like document signing, project management, and language translation to customize your Office 365 experience.
Stay Updated and Continuously Learn:
Office 365 is constantly evolving, with new features and updates being released regularly. Stay updated with the latest enhancements and improvements by exploring official Microsoft resources, attending webinars, and participating in training programs. Continuously learning about Office 365 will help you unlock its full potential and stay ahead of the curve.
Conclusion
By implementing these top 10 tips and tricks, you can supercharge your productivity and efficiency with Microsoft Office 365. Collaborate seamlessly, automate repetitive tasks, optimize data analysis, and utilize the advanced security features to streamline your workflow and achieve better results. As an authorized Microsoft Office 365 partner, Codelattice provides expert support and guidance to help you maximize your Office 365 experience. Contact Codelattice today to set up, migrate, implement, and receive the best support for Microsoft Office 365.