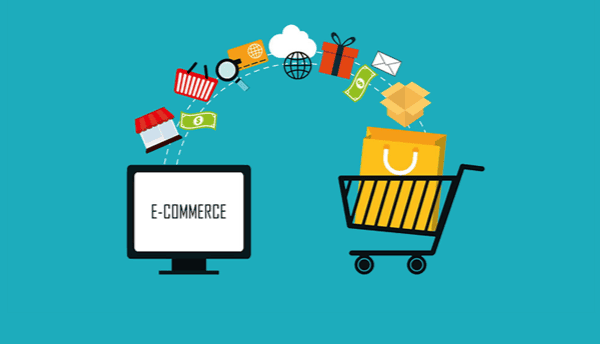 E-commerce or electronic commerce is an alternative to traditional brick-and-mortar commerce, which will soon replace that experience altogether. The increased mobile phone use and connectivity have paved the way for e-commerce to become a common household name. One can now escape the hustle and bustle of city life and have everything delivered, from groceries to clothing, to their doorstep. Some e-commerce companies are stepping up the competition by offering same-day delivery also.
E-commerce is not just helping business people and entrepreneurs; it is responsible for the development of other sectors too. For example, there has been a good rise in web development companies. The top e-commerce web development companies are also witnessing an increase in their customer base.
E-commerce in India
India is the next big market for e-commerce companies to invest in. The Indian e-commerce segment is expected to grow at 21.5% in the year 2022, which is the highest among many matured markets. Major e-commerce development companies in India, like Amazon, Flipkart, and Walmart, have invested heavily to support the growing demand and supply of products.
Let's see how the e-commerce segment will unfold in the coming years and what one should expect from their shopping experiences.
1. E-commerce could be worth US$ 350 billion by 2030
The e-commerce sector in India has been predicted to reach the milestone of US$ 350 billion by the end of 2030. The "Digital India" movement has accelerated the reach of smartphones and the internet in India. Many customers have already switched to 5G-enabled phones without the release of the next-gen broadband technology.
It is an indication of how adaptive the market is. For example, Flipkart, a top e-commerce development company, announced in July 2021 that it had raised US$ 3.6 billion to be invested in India from various sources.
2. Automation of many segments of e-commerce
In the near future, the e-commerce sector will see the automation of various business processes. Many large companies are currently testing two such automation: delivery drones and autonomous cars.
Delivery drones would deliver groceries, medicines, parcels, food, and other homecare products. These programs are becoming increasingly important for their accurate last-mile delivery, environment-friendly operations, lesser delivery
time, and lower operational costs.
The Covid-19 pandemic has only accelerated this development as everyone wants as minimal contact as possible. Delivery drones would have lesser human intervention and can handle different delivery volumes. Amazon, the e-commerce giant, has been developing delivery drones since 2013 and is currently testing them at various locations.
Autonomous or self-delivery cars would also be used to deliver the products to the customer. Leading pizza chain Domino had teamed up with self-driving car start-up Nuro to test autonomous pizza delivery in some parts of the US. The
benefits of self-driving cars are the same as delivery drones. Lesser contact, human intervention, and an environment-friendly option.
3. Omnichannel retail in e-commerce
Omnichannel retail is a new concept and has untapped potential. Omnichannel is different from multichannel retail. Omnichannel is a multichannel approach that provides a seamless customer experience, whether someone is shopping from their mobile phones, laptops, or in-store. It will blur the lines between virtual and in-person shopping. Many customers cross-check before purchasing a product.
They collect information from all sources available before making an informed decision. For example, a customer might check the product online before purchasing it from the store, and vice-versa is also possible. An omnichannel experience would combine the customer's experience from all the channels rather than individual channels.
4. B2B will outperform B2C e-commerce
The B2B model is where wholesalers sell their products to their peer entrepreneurs using the internet. A recent study in Forrester has predicted that the B2B model would grow at a compound annual growth rate of 10% for the next five
years. It might lead to the B2B channel outperforming the B2C channel.
The trends of the B2B model are the same as the B2C model. They must use social media to the growing presence and switch to omnichannel retail for a seamless experience. Automation and AI also play a key role in their development.
5. Social media e-commerce
It is not an unknown fact that for a business to grow, it must have a social media presence. Humans are highly impressionable; we do not buy anything before collecting all the information necessary to satisfy our standards. Social media has made it easy for customers to connect with brands directly.
Small businesses use social media to their benefit by creating a personalized experience; hence, social media commerce like Facebook marketplace and Instagram businesses are booming. Social media has also replaced traditional marketing strategies. Brands now invest in influencers rather than traditional mediums to promote their products.
6. AI and e-commerce
Artificial intelligence, or AI, will become integral to the e-commerce experience in the coming years. With the help of Artificial Intelligence, businesses can easily automate many of their responsibilities using chatbots. For example, many companies have automated customer service for a richer experience.
Data collection and analysis have also become an essential part of the business. AI makes it easier to collect and analyze data. For example, it would help in a personalized shopping experience using the customers' behavioral data and making suggestions accordingly.
7. M-commerce
Mobile commerce, or m-commerce, already accounts for 70% of retail shopping, which is bound to increase with mobile phone use. In addition, smartphones are replacing laptops in many areas, such as gaming and shopping.
With processors as strong as those found in laptops and the convenience of searching for any product from your fingertips, mobile phones are the next big deal. M-commerce would also get a boost from the social media markets and the rising influencer culture.
8. Subscription Models
There is the rising popularity of subscription models. In a subscription model, customers pay a recurring fee to use the product or service. Some popular subscription models
are Spotify, Nykaa for their skincare range, and Amazon for household products. It is excellent for companies as they can retain more customers and create brand loyalty.
It also helps them to predict trends and inventory turnover.
Companies are getting innovative with the subscription model, and some even provide subscription boxes. It is famous for farm goods, coffee preparations, and food preparation kits. Subscription models also ensure a steady flow of income for a
designated period.
9. Voice-controlled shopping
Voice technology, more commonly known as Alexa or Google Home. Voice technology coupled with AI makes shopping easier. When someone gives a voice command, for example, on Amazon using Alexa, they do not have to open the app and can have their product added to the cart. Amazon remembers the brand of choice, and reordering becomes an easy task.
Conclusion
The current technological advancements and investments in such technologies are indicators of an era of e-commerce shopping. Therefore, business persons must be prepared to adapt to these changes as a rapidly evolving sector. Furthermore, with the development of e-commerce, other opportunities for technological advancement have also become prevalent, leading to a digital era for human beings.